Welcome to the family and cosmetic dentistry office of Smithfield, NC dentist Dr. James Oldham.
Welcome to Our Practice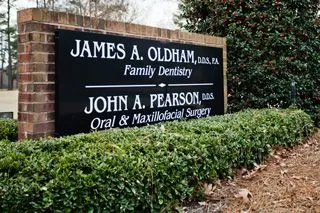 We pride ourselves on our success in building relationships with the patients in our practice. We take time to get to know you, to educate you, and to discuss your treatment options. Our goal is to earn your trust and make you feel comfortable beginning with your first appointment
Our patients feel very comfortable while in our care, and it starts at the front door with warm colors in the reception room that will remind you more of home than of being in a dentist's office. We have a comfortable reception area, complete with a flat-screen TV and coffee bar. But most importantly, we have a staff of caring professionals who are ready to make your visit with us a pleasant experience.
We accept a variety of insurances, offer convenient payment options, and are eager to care for the dental needs of you and your family. We invite you to call us today for an appointment at (919) 934-4909.
Caring For Your Family's Dental Health
Dr. Oldham is a firm believer in using the most up-to-date sterilization techniques available and our staff stays current on OSHA certification. When it comes to patient care, digital radiographs are taken which reduce patients' radiation exposure. We also employ the use of intra-oral cameras, which aid in diagnosis and in educating our patients. All this enables us to serve you and your families needs better.
---
Comprehensive Dental Services
An experienced cosmetic and family dentist in Smithfield NC, Dr. Oldham offers periodontal treatment and dental implants procedures at his office. Moreover, the practice is pleased to have an oral surgeon right in the office, which means patients who require wisdom teeth removal or dental implants do not have to go outside our practice for those procedures.